Instructor Profiles
Joyce Jackson – Equine / Canine Acuscope Instructor
Founder of Animal Therapy Systems and Progressive Therapy Systems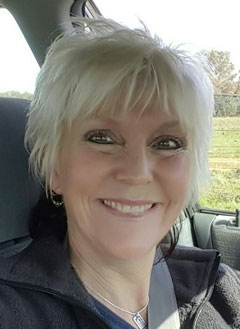 Joyce Jackson is a former NFR (National Finals Rodeo) Qualifier who is the founder and owner of Progressive Therapy Systems and Animal Therapy Systems. She has been an Animal Acuscope Therapist since 1988 working extensively with and consulting with veterinarians. She is the primary developer of the Animal Acuscope Training and Certification Program as well a main contributor to the development of the protocols being used on animals. Joyce has many years of education and experience using a multitude of healing modalities for animals and has been the Senior Instructor of the Animal Acuscope Training/Certification Program since 1990.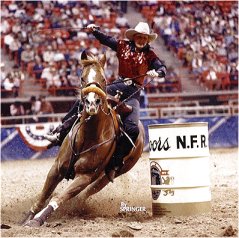 Joyce is also an internationally known speaker and instructor for many human and animal wellness programs and is the host of a weekly radio show that pertains to human/animal health and well-being. In addition, she has a special interest and expertise in the areas of animal healing and the unique role that animals can play in the healing process of humans and the planet. She also has a strong background in Traditional Chinese Medicine for animals. An eclectic blend of scientific physiotherapist and hands on energy worker, she specializes in frequency healing and vibrational medicine at the cellular level, as well as being a Nutritionist for all species. For a complete list of her qualifications, please see the "About Us" section in either of the two websites.
Molly Wells – Equine and Canine Acuscope Instructor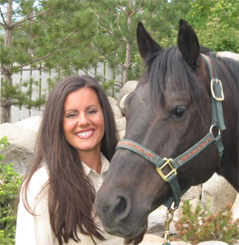 Molly Wells is a certified Equine Acuscope Therapist as well as a certified Equine Body Worker (specializing in Equine Sports Massage and Myofascial Release). She has a bachelors degree in Psychology focusing on animal behavior courses, and completed one year of the animal science program. She has several years of teaching experience as well as experience lecturing at many equine events. She strongly believes that proper therapy work should be used in conjunction with appropriate veterinary care, training techniques, nutrition, and dentition. Molly's involvement in the horse world comes as a barrel racer and she is dedicated to making a positive difference in the equine world for horses of all levels and disciplines, as well as educating people on what modalities are available to benefit the lives of their equine athletes.
Tracie Seavey Audette – Equine and Canine Acuscope Instructor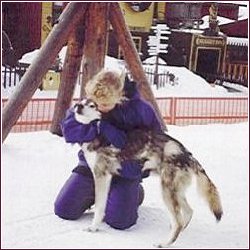 Tracie Seavey Audette has been certified as an Acuscope Therapist since 1998. She is an accomplished horsewoman and competes in many disciplines of riding including dressage and reining. Out of the arena she is an active advocate for political change regarding complimentary therapies and veterinary practice. Until three years ago, she spent her entire life in rural Alaska riding horses and running Iditarod endurance sled dogs with her family. She developed nutritional support and Acuscope Therapy for their Iditarod championship teams. Tracie is well versed in treating conditions and athletic injuries in both large and small animals. She works with veterinarians, top trainers, and owners who compete in equine and canine performance venues at the highest levels. Tracie has presented case studies involving Acuscope Therapy at the World Wide Symposium for Animal Physical Therapy and Rehabilitation, and she has extensive knowledge in animal nutrition, biomechanics, and the bioenergetics of the body.

She also travels and teaches seminars on whole health for animals. She uses her working relationship with veterinarians, common sense and her intuition to incorporate a 'wholistic approach to wellness'. Tracie is also a certified instructor for the Acuscope - Myopulse Therapy System. She now practices from her facility in Purcell, Oklahoma, and the Acuscope - Myopulse Therapy System is one of her primary modalities.
Nancy Nuckolls – Equine and Canine Acuscope Instructor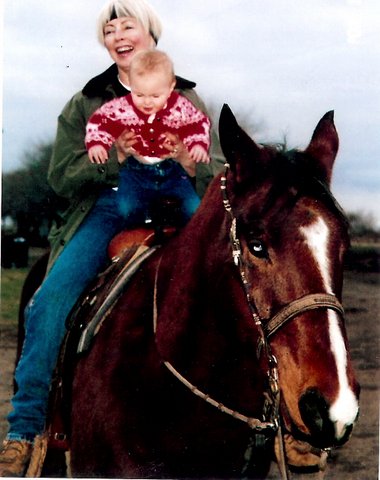 Nancy Nuckolls has over 16 years of experience as an ATS certified Equine Acuscope Therapist. She also has many years of teaching experience. She is the owner of Thoroughbred race horses and has been for over 30 years, and she is also a licensed trainer at the track. In addition, Nancy has trained and competed professionally on some of the top barrel horses in the Northwest. She and her husband Rod own and operate a full service equine training and rehabilitation center in Moses Lake, Washington. Although Nancy's clientele includes all disciplines of professional horses, she has a great working relationship with the top trainers and owners in the Thoroughbred racing world and works on some of the most famous race horses in current history.
Cathy Bayless – Equine and Canine Acuscope Instructor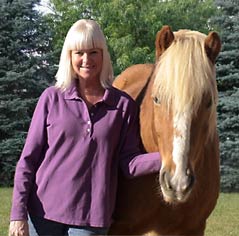 Cathy Bayless is a certified Animal Acuscope Therapist with a special interest in all types of healing modalities for animals. As well as being involved with Electro-Magnetic modalities since 1982, she is a certified Animal Acupressurist and an Animal Herbalist who apprenticed under Buster Lloyd Jones in Brighton, England. She is also an Animal Health Technician. Cathy brings extensive teaching experience to this program, which includes being an instructor at the Animal Acupressure School of Massage, as well as instructing many courses in Flower Essences, Essential Oils and Animal Nutrition. Her extensive love for animals can be seen in the fact that she is a member of the Board of Directors for the PAL Humane Society, and is also an active foster home for the same organization. At this time she owns an animal wellness center, and her primary expertise is with horses and dogs.
Judy Moore – Equine and Canine Acuscope Instructor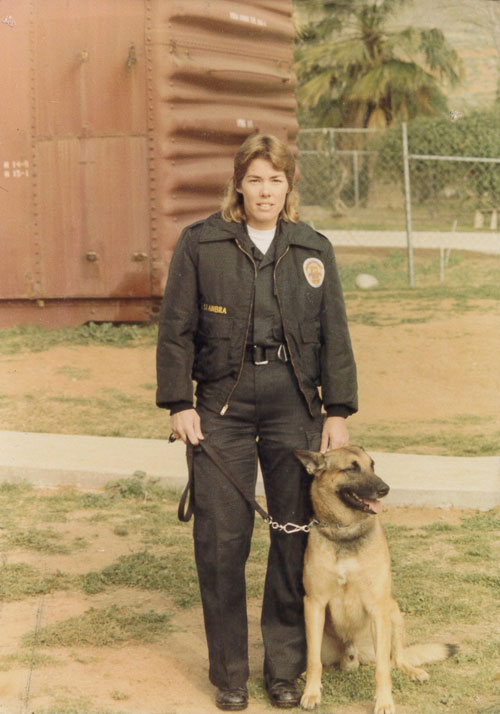 Judy Moore is a certified Animal Acuscope Therapist and is also certified by Equissage as an equine and canine massage therapist. She has a Bachelor of Science in Physical Education with a minor in Animal Sciences.
Judy was active in Law Enforcement for 26 years, and her favorite assignment was as a K-9 Handler, which she worked at for over 9 years. She and her husband Dan continue to train police K-9s throughout California.
Judy and Dan also compete on their horses all over the Western United States at Cowboy Mounted Shooting Events. It was at one of these events in 2009 that Judy witnessed an Acuscope demonstration on a horse. She immediately hired the therapist to work on their horses, and noticed a big difference in their performance ability. It wasn't long before she knew she also wanted to become an ATS Certified Animal Therapist.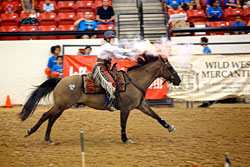 Judy has worked in conjunction with canine and equine veterinarians as well as several rescue organizations, and is well respected by everyone she works with. Her clientele includes dogs of all disciplines – from police K-9s and other working breeds to companion animals and rescue dogs. She also works on horses from all aspects of the equine industry, including western and english performance as well as personally owned trail/pleasure mounts. She currently practices in the Stockton/Brentwood, California area.
Cathy Veater Ruda – Equine and Canine Acuscope Instructor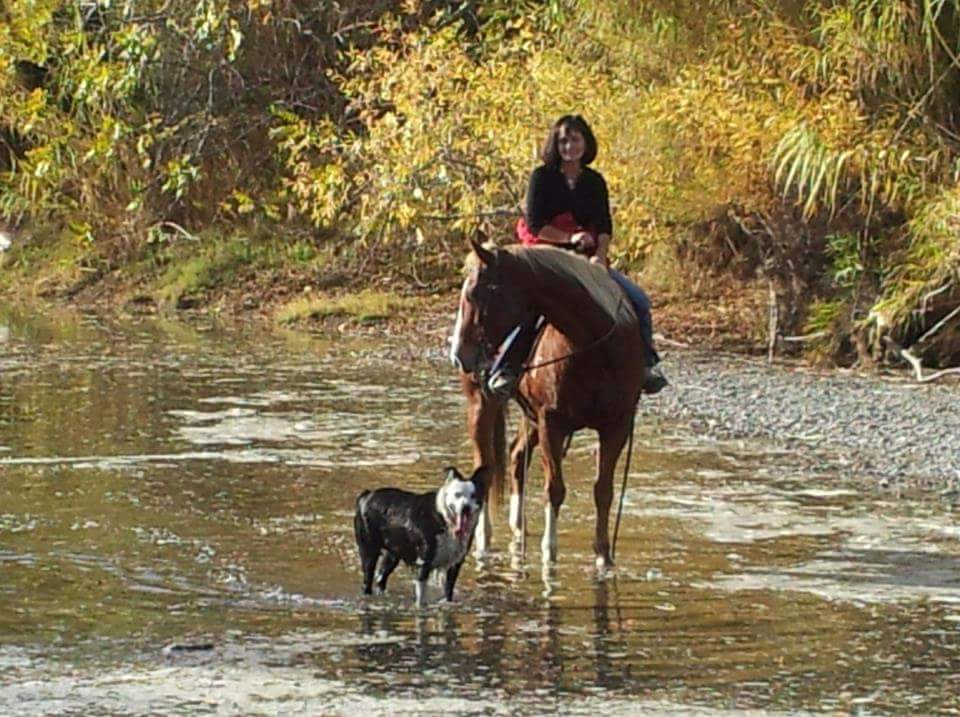 Cathy Veater Ruda has been an ATS Certified Animal Acuscope Therapist since 1999. She was raised on a cattle ranch and was riding horses before she could walk. Cathy attended the University of Fresno and then worked as a Livestock Inspector before she worked in several mixed (large and small animal) veterinary practices for 15 years. She has also been a professional barrel racer on the Pro Rodeo Circuit for many years.
In 1999 Cathy reconnected with old time rodeo friend Joyce Jackson and had a horse worked on with the ATS Acuscope/Myopulse Therapy System. After seeing the successful results on her personal horse, she immediately enrolled in the ATS Animal Training/Certification Program and then started working on many equine and canine partners.
Cathy currently practices in Red Bluff, California and is well respected by her peers. She enjoys helping horses and dogs achieve longer and healthier careers, and has seen many miraculous results with the proper use of these instruments. Cathy is very excited to branch out and share her knowledge of the proper applications and uses of the ATS Animal Calibrated Acuscope/Myopulse Therapy System.
Nancy Hall – Equine Acuscope Instructor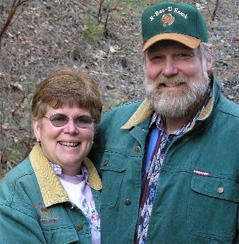 Nancy Hall has been a certified Animal Acuscope Therapist since 1998. Her clientele includes all disciplines of the equine world and she has extensive experience in treating a multitude of conditions. She has worked with veterinarians extensively providing therapy for many years and has gained respect and credibility among the veterinarians she works with. Nancy has a solid educational background in Equine and Companion Animal health and wellness, and has been a presenter/speaker/organizer for numerous animal health events. She has a strong background in nutrition as well. Nancy has years of experience as an educator in the animal world, has been a horse owner for many years and has been featured in equine publications for her equine physiotherapy work. She also has vast experience in the canine world by providing physiotherapy for dogs and having 34 years of experience as a dog obedience instructor teaching family dog obedience and agility.
Kim Williams – Equine Acuscope Instructor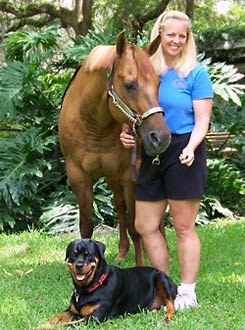 Kim Hartsell-Williams is a certified Animal Acuscope Therapist as well as having credentials as an equine massage therapist. She has bachelor's degrees in Business Management and Animal Science, and has many years of instructional experience as well. After being a veterinary technician at a small animal practice for 9 years, she decided to turn her focus to horses. She has gained respect and credibility among the veterinarians in the surrounding areas, and believes that therapy work should be used along with traditional veterinary medicine. Her clientele includes all disciplines of horses from pleasure, hunter/jumpers, reiners, barrel racers, dressage, and fox-hunters to 3 day eventers. Her business also includes a fair number of canine patients – from companion animals to athletic working dogs. Kim herself has ridden a variety of disciplines including pleasure, hunters, barrel racing and dressage. At the present time she is showing with the Buckskin breed.
Tami Hentz – Equine Acuscope Instructor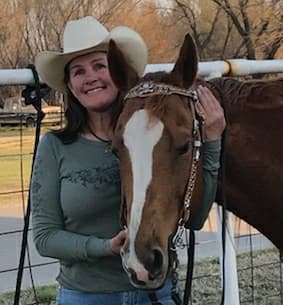 Tami Hentz has been an ATS equine therapist since 2001 and PTS human therapist since 2009.
Tami grew up in the family boarding stable and was introduced to a large variety of equine disciplines, but the one that became her passion was barrel racing. Tami eventually owned her own boarding, training and therapy barn in which the ATS Acuscope/Myopulse was the primary therapy. Later, Tami advanced her PTS Acuscope education and became a certified human therapist. Tami worked for a physical therapist in which she was able to use her love for the PTS Acuscope/Myopulse for treating and achieving astounding results.
In 2016 Tami moved to Oklahoma to start a new life and come back to the original passion of working on horses. She built a rehabilitation facility and is working with a veterinarian on a wide variety of issues. Being an ATS Acuscope/Myopulse therapist has been the most rewarding occupation Tami has ever known and has allowed her to learn something new with every animal she works on.
Cherie Hecht – Equine Acuscope Instructor

Cherie Hecht is an experienced certified Equine Acuscope Therapist with an affectionate passion for horses as can be seen in her life's accomplishments. Cherie has many years of instruction and teaching experience. She began many years ago by giving riding lessons and eventually started her own hunter/jumper stable. Currently Cherie is located in Austin, Texas where she is setting up her equine therapy barn and will offer Electro-Acuscope treatments as her primary modality. Cherie has over 14 years experience in the equine wellness field in which she has treated horses for a broad range of conditions using a variety of modalities. She has an extensive clientele who appreciate a skilled and experienced therapist, and her clientele ranges from coast to coast in the USA and several European countries.


Major credit cards accepted by phone, fax or email.
Financing Options Available